About Bean & Elephant
Farm to Cup Artisan Coffee from India
At Bean & Elephant, coffee isn't just our business; it's our entire world.
We eat, sleep, and breathe great coffee, and we treat our estates (and the people who call them home) with the utmost love and respect. Our specialty coffee is in a league of its own. From scaling and pruning the shade trees to making sure our plants get enough sunlight, to handpicking and sorting only the ripest cherries, to carefully roasting each bean, our coffee is special through and through.
Bean & Elephant specialty coffee is uncompromisingly single origin coffee. The coffee grown on our estates is of the highest quality—why would we source from anywhere else? Every single delicious cup of B&E is traceable, sustainable, farm-to-cup, and fair-trade.
Specialty coffee takes months of arduous work, care, and love to produce. Our specialty coffees are grown in microclimates at the perfect altitude that allows us greater control over the quality and exceptional taste, producing a rich and delicious flavour.
Bean &Elephant Estates, situated in the fertile slopes of the western ghat of Karnataka, produce perfectly shade grown Arabica and Robusta coffees. We take pride in working with mother nature, and her natural processes, reducing deforestation. Never rushing the growing process, we value quality beans, over quantity.
Every single coffee cherry that our farmers pick is carefully selected for ripeness and perfection. This gives B&E coffee a quality that simply cannot be matched by mechanical harvesting or strip-picking. When it comes to coffee, you're a picky drinker. Luckily, at Bean & Elephant estates, we're picky pickers.
Our farm-to-cup process allows B&E Coffee to properly and fairly compensate our farmers with competitive wages. Our team does an excellent job, we believe they deserve proper pay. Our environmental practices mirror our dedication to sustainability. We believe that if you work with the earth, she will reward you. Our reward is the exquisite specialty coffee grown at our estates.
The moment you place an order for B&E coffee, is the moment we begin roasting your beans to perfection based on your roast curves. That's how we ensure that our meticulously grown and picked beans sustain their excellence until the moment you take that first warm, comforting sip
Our Vision
At Bean & Elephant, our vision is two-fold. Firstly, we seek to empower coffee growers by providing fair prices. Our family knows the struggle of year-round work and minimal profits. By cutting out the middlemen, and making our coffee farm-to-cup, we aim to empower our farmers with fair pay to sustain an equitable relationship. We believe happy farmers grow the best coffee.
Secondly, we intend to continue to produce specialty coffee with the most sustainable methods possible—while contributing to, not taking away from our precious ecosystem.
Our mission, simply put, is to become the most trusted grower and seller of specialty coffee in the world. We intend to get there by providing exquisite coffee, cup after cup.
Limitless Diversity
Just like the land we call home; our business is rich in diversity. Each farmer, manager, roaster and distributor have a unique set of skills that they bring to the coffee-table. Just like each part of our ecosystem, these people play valuable roles in our business, and without them, Bean & Elephant would never have gotten where we are today.
Relationship-Centric
Bean & Elephant would never have grown into the incredibly high-quality brand that it is today without the constant support and dedication of our workers, farmers, roasters, grinders and managing team. They're the driving force behind the creation of some of the highest-quality speciality coffee India has to offer.
Community
Our fair-trade practices allow us to give our workers and farmers the recognition and payment they work so hard for. We also make sure that we give back to our communities by donating to food banks in Canada, like the Daily Bread Food Bank, and Fred Victor, Toronto. For more information on how you can help us make a difference, reach out to us today!
Accentuating Flavours
Our coffee is special. We spend months, days and hours making sure that the coffee that reaches your doorstep meets the high standards of quality speciality coffee. This is done by carefully monitoring each stage of the coffee making process and identifying and removing any beans or batches that have any imperfections.
Our Team
Amruth Igoor
Founder & CEO
My passion and work ethic come straight from my dad and grandparents, I believe in turning the growing chain of people involved in making our coffee into a fun and exciting family.
We believe in quality over quantity, and we make this principle of endless patience and hard work a part of every aspect of our life from planting each coffee seed, to hand picking ripe cherries, to carefully roasting and hand-packing our coffee, we do it all to bring you more than a hundred years of care and dedication of the finest speciality coffee to your doorstep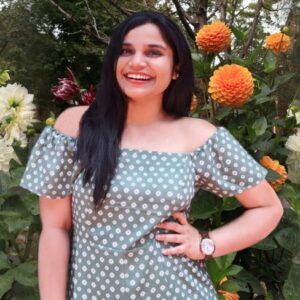 Tanaya
Administration
While the love of coffee is fairly new to me, I'm passionate about growing the Bean & Elephant brand with my partner, Amruth. I love being part of such an honest, genuine, and caring brand that was created from so much rich history, and I wouldn't trade the B&E family for the world.
Alok Igoor
Product Manager
I grew up on a coffee farm as a kid and I love B&E coffee company's philosophy of happy farmers grow the best coffee. Like a good home-cooked meal, the secret recipe is always love. 
I am quite drawn to the mission and vision of empowering coffee growers to continue to provide exquisite coffee. I have had the privilege of seeing the absolute amazement of people trying the Bean & Elephant coffee for the first time, and I cannot wait to see more of that.
Alan Gibbons
Distributor, Ireland
My passion for coffee comes from my very first visit to the family's estates of Bean & Elephant in India. I saw the hard work, love and care that went into creating this coffee and I immediately decided to become a part of the team. Under Amruth Igoor's passionate leadership, we're a family business through and through. Our brand is extraordinary because we take the time to do things perfectly, and just like us, our coffee is wonderfully unique.
A Heritage Of More Than 100 Years
Our story began more than 130 years ago on the untouched slopes of Sakleshpur, India. Igoor Putte Gowda, accompanied by Fredrick Green and John Newcomb, discovered that this sloping land in the Western Ghats of Karnataka was the perfect place to grow some of the finest coffee beans the world has ever seen.
Situated at almost 950 metres above sea level, Sakleshpur is a blessing to coffee farmers thanks to the average of up to 100 inches of annual rainfall it receives. And here, Igoor Putte Gowda and his son, Igoor Rajasekar, started creating a legacy that would last more than a century and provide a livelihood and sense of pride for hundreds of workers, staff, and farmers.
Their hard work, passion, and dedication laid the cornerstones of what would eventually become the Bean & Elephant brand. We hope to continue what they started and give our predecessors (and the workers, staff, and farmers that dedicate their lives to bringing you delicious coffee) the long-overdue recognition they deserve.
Three generations later, the Igoor family's love of coffee has grown along with the Chikmagalur Estate. We continue to create delicious Arabica and Robusta specialty coffees, and we want to share them with you.
Our Coffee growing & roasting process
From Our Estate to Your Cup
Our family estates are leading producers of specialty coffee made from both Arabica and Robusta species of beans. Our passion isn't just selling good coffee; it's creating a coffee-drinking experience beyond compare, thanks to our exceptional attention to detail throughout every step of the specialty coffee-making process. We combine more than a century of skill with modern technology to bring you the perfect cup of single-origin coffee every time.
Explore Bean & Elephant Coffee
Wholesale
We sell our beans to roasters and coffee shops around the world. Contact us about adding Bean & Elephant to your coffee selections.
SHOP
We sell our beans to roasters and coffee shops around the world. Contact us about adding Bean & Elephant to your coffee selections.